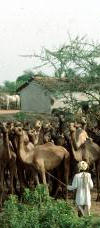 On this year's Human Rights' Day, 10th December, representatives of herding communities from all over India rallied in Delhi to draw attention to their plight and discuss strategies for reviving their customary grazing rights. For hundreds of years these mobile livestock keepers have held together rural life by providing draught animals, milk, meat, wool, manure, and general ecosystem services.
But in the last several decades these diverse and colourful people that include the Raika and Gujjar of Rajasthan, the Maldhari of Gujarat, the Gaddi in Himachal, Bakkarwal in Kashmir, Van Gujjar in Uttaranchal, Changpa in Ladakh, Golla in Orissa, Kuruba in Karnataka, Toda and Konar in Tamil Nadu, and many more, have felt the squeeze of "development" and of generally unsympathetic government policies. The establishment of wildlife sanctuaries and national parks, joint-forest management schemes, allotment of common land for commercial plantation or bio-diesel cultivation, expansion of irrigation agriculture are all developments that have constricted their customary grazing areas.
Click here for more.