Livestock and livestock keepers are usually neglected during international discussions on biological diversity, which tend to focus on wildlife, wild plants and crops.
LPP is trying to attract international attention to this issue, and to the threats facing livestock breeds and the people who keep them.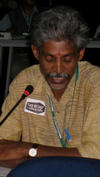 Speaking on behalf of LPP, Mr Vivekanandan of SEVA, India, highlighted the need for Livestock Keepers' Rights at an international conference on biological diversity in Curitiba, Brazil, on 22 March 2006.
Vivekanandan's statement 17 kb
See also www.biodiv.org.