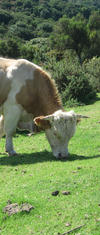 Pastoralists and support organizations attending an international meeting on biodiversity have issued a statement demanding recognition for the role of pastoralists in conserving biodiversity.
The ninth meeting of the Conference of Parties of the Convention on Biological Diversity is taking place in Bonn, Germany, from 19 to 30 May 2008.
"When land is taken away for crop cultivation or for 'Protected Areas', pastoralists are denied access to traditional grazing lands and pastures. There is no so-called 'wasteland'. Land that is considered 'waste' by the state is used by pastoralists for grazing their animals and managing herds", says the statement.
"We demand that the contribution of pastoralists to the conservation and sustainable use of biodiversity is recognised and rewarded… Pastoralists do not want food aid but the capacity to produce and market their speciality products."
Download full statement (1 page, 42 kb)