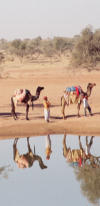 Over the last 10 years, the number of camels in Asia has fallen by one-fifth – mainly because their traditional pasturelands have been lost.
Camels are vital for the livelihoods of millions of people who live in and on the margins of the world's deserts.
17 June 2005 – the United Nations' World Day to Combat Desertification and Drought – is an opportunity to focus on the role of camels in using arid lands sensibly and sustainably.
Click here for more information.