November 4, 2011
The future of pastoralist livestock production in Africa.
LPP's Ilse Köhler-Rollefson participated as a panel member in this event http://www.togev.de/aktionen/tagung.html celebrating 20 years of VSF Germany http://www.vsfg.org/
The topic: Does pastoralism in East Africa have a future? Experts and participants overwhelmingly agreed that pastoralism is there to stay, despite the current crisis in the Horn of Africa – which is more detrimental for farmers and agropastoralists than pastoralists, according to some sources.
October 8 - 19, 2011
Camel Charisma at Nature Bazaar, Crafts Museum, New-Delhi, India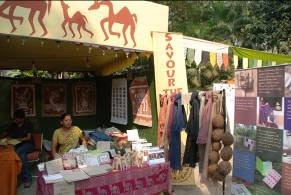 Camel Charisma is the social enterprise that markets the camel products from the projects of LIFE Network partner Lokhit Pashu-Palak Sansthan. Its stall at the Nature Bazaar – held at Crafts Museum in New-Delhi featured a variety of extremely bio-diverse and rarely heard of camel products – ranging from camel milk soaps to the world's first art work on camel dung paper and exquisite "cashmina" shawls….and was a real crowd puller.
July 18 - 22, 2011
The Thirteenth Regular Session of the Commission on Genetic Resources for Food and Agriculture, FAO Headquarters, Rome, Italy
LPP delegation (Dr. Jacob Wanyama, Dr. Abdul Raziq, Hanwant Singh Rathore and Dr. Ilse Köhler-Rollefson) participated in the international meeting at FAO and organized a Side Event on Biocultural Community Protocols and the Ark of Livestock Biodiversity http://www.iisd.ca/biodiv/cgrfa13/20july.html. On behalf of the delegation, Dr. Raziq also presented a statement in the plenary.
July 25 - 29, 2011
LPP Theme Week, Ober-Ramstadt, Germany
LPP's international partners from Kenya, India, Pakistan, and the Netherlands discussed with LPP members, friends and local livestock keepers at LPP Headquarters in Ober-Ramstadt/Wembach about the future of livestock keeping.
In another event, they presented a copy of their colleague Dr. Balaram's book "Ten days in a German village" to the mayor of Ober-Ramstadt.
May 15 - 18, 2011
Visiting Ankole Cattle herders in Uganda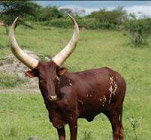 LIFE Network Uganda member Elizabeth Katushabe and Ilse Köhler-Rollefson visited and consulted with the breeders of the famous Ankole Long Horn Cattle Breed and learned about the economic and other pressures to switch to exotic dairy breeds. Subsequently, they issued a press release to draw attention to the issues
March 31 - April 6, 2011
Inception meeting of the Asian regional initiative on Biocultural protocols in Sri Lanka
Ilse Köhler-Rollefson and Abdul Raziq Kakar represented the LIFE network at the inception meeting of this new initiative that is led by Natural Justice
March 15 - 16, 2011
Camel Workshop and Inauguration of the Camel Dung Paper Unit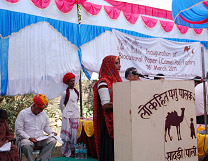 This event marked a milestone: establishment of a small paper making unit on the campus of LPP's partner Lokhit Pashu-Palak Sansthan. The unit was supported through a grant from the German state of Hesse, as well as Misereor and Ford Foundation. It was inaugurated by Shri Gulab Kothari, Chief Editor of the Rajasthan Patrika. On the day before, LPPS hosted a national-level workshop about camel product development and marketing.
January 15 - 19, 2011
Joining Dr. Balaram's Pathe Pathshala in rural Orissa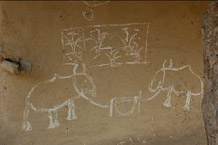 Ilse Köhler-Rollefson had the honor of joining Dr. Balaram's Sahu's Pathe Pathshala ("Roadside University") as a visiting professor for a few days, meeting and discussing with numerous livestock keepers, ranging from cattle to duck keepers. One of the highlights was the release of Dr. Sahu's book "Ten days in a German village" among the nomadic swine herders.
January 9 - 14, 2011
Pre-Conference Workshop at the International Association of the Commons in Hydrabad, India
January 1, 1970
Global Agenda of Action for a Sustainable Livestock Sector: first focus area workshop on 2-4 April
The FAO and other major actors, including the World bank and the International Livestock Research Institute (ILRI) have initiated a multi-stakeholder platform to develop a Global Agenda of Action for a Sustainable Livestock Sector. A preparatory meeting took place in December 2011 in Phuket (Thailand) in which LPP's Ilse Köhler-Rollefson took part. The participants agreed to break down the sustainability issue into three themes: (1) Closing the efficiency gap, (2) Restoring value to grasslands, and (3) Reducing discharge.
This is definitely a process to watch and in which livestock keepers themselves should be represented as a distinct stakeholder group. The first focus area workshop will take place at FAO in Rome from 2-4 April, 2012. More information at www.livestock dialogue.org