LPP and the LIFE Network will host a side-event entitled "Caravans of Biodiversity" that will highlight Indian pastoralists, their breeds and their role in producing nutritious and delicious food during the 11th Conference of the Parties (COP) to the United Nations Convention on Biological Diversity (CBD) in Hydrabad. It will take place on Friday, 12th October from 13.15 – 14.45 hrs. The programme will be posted here shortly.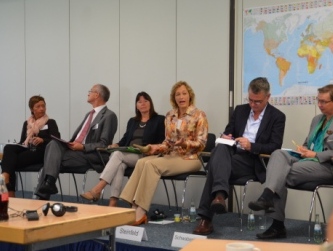 Some 80 experts from five continents and representing a wide variety of stakeholder groups including livestock keepers discussed in Bonn how to put livestock development on a sustainable path. The presentations and output will be uploaded on this website shortly. Press releases/summaries are available in English and German. Some of the salient moments of the wide-ranging discussions are captured  photographically here. An interview with Henning Steinfeld, chief livestock policy analyst at FAO, is available on line.
"Biocultural Community Protocols" – an approach for livestock keeping communities to put on record their and traditional knowledge in stewarding biological diversity. They are a legal tool originally conceived by the NGO Natural Justice in response to the need for fair and equitable benefit-sharing agreements under the CBD. The first BCPs were pioneered by communities associated with the LIFE Network for community-based conservation of livestock biodiversity and the approach is receiving intense interest from many sides.
Current Project
Asian Regional Initiative on BCPs
Publications
Biocultural Community Protocols for Livestock Keepers. LPPS, 2010.
Livestock Keepers. Guardians of biodiversity. FAO Animal Production and Health Paper 167.
Keepers of Genes. Indian Pastoralists and their Livestock Breeds. LPPS
Indigenous Breeds, Local Communities. Documenting Animal Breeds and Breeding from a Community Perspective
---
The FAO just published on-line a new study in its Animal Production and Health Paper series that analyses the role of women in managing livestock diversity.  It concludes that "women, as the main users of locally adapted livestock breeds, play a major role in managing animal genetic resources and thereby conserving them. They also make deliberate breeding decisions, generally preferring animals that are easy to manage and disease resistant and that therefore do not increase their workload." A number of case-studies, many of them from South India, are presented.
The latest edition of the Participatory Learning and Action Newsletter (PLA 65) is dedicated to the exploration of community protocols, rights and consent. It also contains an article by members of the LIFE Network in which they summarize their experiences with Biocultural Protocols for livestock keepers.