Ilse Köhler-Rollefson / League for Pastoral Peoples and Endogenous Livestock Development / 2020

Pastoralism is a way of raising animals with nature. It entails the movement of people and herds across landscapes, making use of natural vegetation and crop by-products.
Pastoralism corresponds to public demands for high animal welfare and environmentally friendly methods of livestock production. If we want to make the livestock sector more sustainable, this production system requires strong policy support.
We currently do not know how many pastoralists there are globally or within each country. This is due to the absence of data collection and because pastoralism is not a distinct category in livestock censuses.
Outdated colonial concepts and one-sided focus on the "efficiency" of livestock systems have prevented the recognition of the benefits of pastoralism as a solar-powered, biodiversity-conserving food-production strategy.
In order to monitor the situation and provide a basis for policymaking, FAO should lead a global initiative to define pastoralism and record data by production system.
6 a.m. Pacific / 3 p.m. Central Europe / 4 p.m. East Africa / 6.30 p.m. India
We are pleased to announce the launch of our new book 'Livestock for a Small Planet' on 5th October in a session with renown livestock experts from different backgrounds and schools of thought. This little book disentangles the various allegations against livestock to conclude that it is not a black and white issue but depends very much on how farm animals are managed. Ilse Köhler-Rollefson challenges the prevailing 'efficiency paradigm' and suggests a radically new approach to align livestock keeping with planetary boundaries. It may not come as a much of a surprise that she thinks the west could learn much from the pastoralists of the world about how to manage animals in tune with nature.
Please join us for what promises to be a lively discussion about the future of livestock keeping!
Register here:
https://us02web.zoom.us/meeting/register/tZMucOutrDkjHNdJZd-ja5BV5c7MXpGHszbG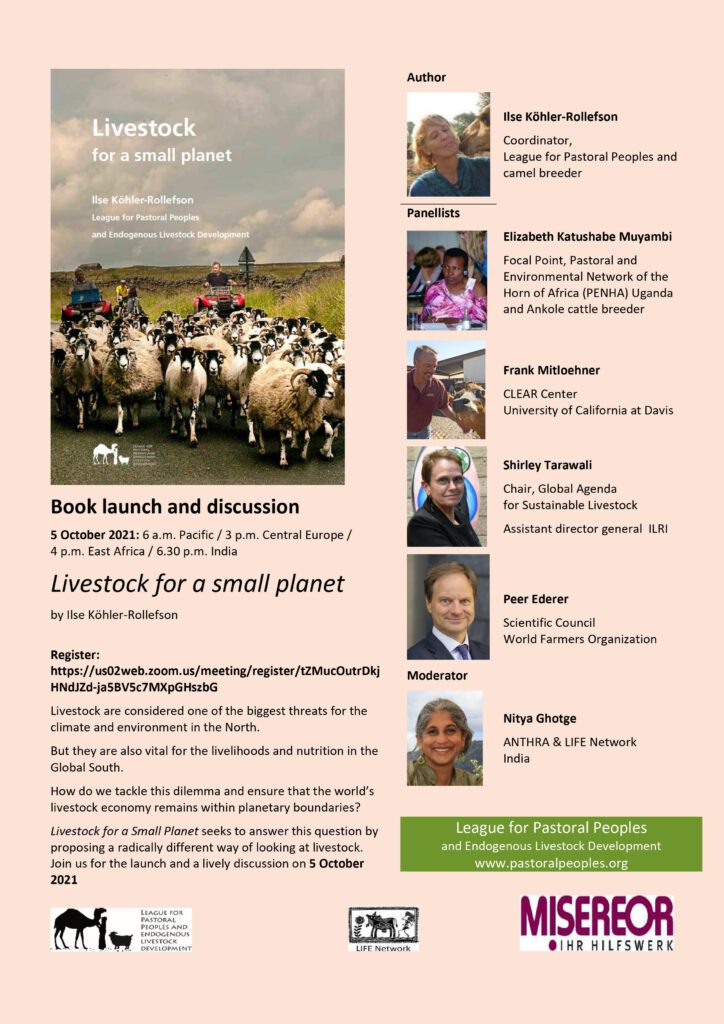 The book itself will be uploaded here shortly before the launch.
Dr. Ilse Köhler-Rollefson: Transhumance – A way of life truly sustainable.