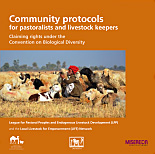 (Biocultural) Community Protocols are documents produced by local communities about the biological diversity they create and conserve. They are an important means for local people to claim their rights under national and international law, especially though the Nagoya Protocol to the Convention on Biological Diversity. They are intended to ensure that recognition and benefits flow to indigenous and local communities for their role in conserving in the conservation and sustainable use of genetic resources.
Community protocols also have many other uses: telling the outside world about the community's role in conserving biological diversity, documenting traditional knowledge and raising awareness among community members about their unique livestock and livelihood system.
BCPs for pastoralists were pioneered in India in 2009 by the Raika community, with support from our partner organizations Lokhit Pashu-Palak Sansthan (www.lpps.org) and Natural Justice (link). LPP advocates for wider use of the approach and has aided various members of the LIFE Network to implement BCPs, such as among the Samburu of Kenya, camel breeders of Rajasthan, Brela camel breeders in Pakistan, and many others.
---
Current Project
Asian Regional Initiative on BCPs
Publications
Biocultural Community Protocols for Livestock Keepers. LPPS, 2010.
Livestock Keepers. Guardians of biodiversity. FAO Animal Production and Health Paper 167.
Keepers of Genes. Indian Pastoralists and their Livestock Breeds. LPPS
Indigenous Breeds, Local Communities. Documenting Animal Breeds and Breeding from a Community Perspective
---