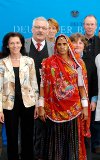 A group of pastoralists has lobbied members of the German parliament to raise awareness of their role in maintaining biodiversity.
The group, sponsored by the League for Pastoral Peoples and Endougenous Livestock Development, met members of the Committee for Food, Agriculture and Consumer Protection of the German parliament on 18 May 2010.
The delegates explained the need for sustainable livestock production and for policies to support livestock keepers in develoiping countries as part of negotiations with the Food and Agricultural Organization of the United Nations and the Convention on Biological Diversity
Read full article (in German).