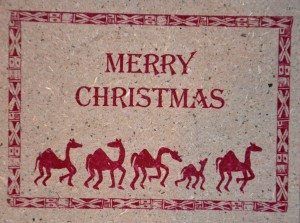 Frohe Weihnachten und ein gesegnetes Neues Jahr!
Wir hoffen mit Ihrer Unterstützung unsere internationale Arbeit für eine ökologisch und sozial nachhaltige Tierhaltung im nächsten Jahr zu stärken und dadurch die weitere Ausbreitung der industriellen Tierhaltung zu verhindern sowie machbare Alternativen zu entwickeln. Mit Ihrer Spende können Sie erheblich zur Erreichung dieser Ziele beitragen und das Leben von armen Nutztierhaltern verbessern.
Unser Spendenkonto:
Liga für Hirtenvölker e.V.
Kontonr. 28004893
Sparkasse Darmstadt
BLZ 508 501 50
Much of the meat, milk and other products we enjoy from animals are produced by small scale livestock keepers and pastoralists. But their livelihoods are under threat. How to help?
The League for Pastoral Peoples and Endogenous Livestock Development (LPP) brought together livestock keepers and international experts in Bonn, Germany for 'Livestock Futures'. In this photo story they share their visions for the future and how to help small scale livestock keepers and pastoralists to thrive.
Kurzdokumentation der Livestock Futures Konferenz über die Zukunft der Nutztierhaltung
von Anne Welsing
Livestock Futures Conference, Bonn, 6/7 September 2012
The Conference "Livestock Futures" has highlighted the importance of integrating small scale livestock keepers in the dialogue about food security, biodiversity and environment conservation. Their contribution to these topics is invaluable and must be recognized.
Download Documentation
LPP is pleased with the results of the 7th Session of the ITWG-AnGR, as it made many important recommendations to FAO, with respect to looking into community protocols, developing indicators for livestock sector sustainability and the "need to further promote and ensure better market access for the products of locally adapted breeds". Read a small blog-post on the subject here and listen to audio messages about the importance of local breeds by some of the National Coordinators for animal genetic resources and LPP's Ilse Köhler-Rollefson.