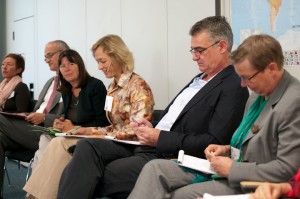 The presentations and results of the international conference about "Livestock Futures" held in Bonn on 6th and 7th September are now on line and can be downloaded here. More candid photos from the conference by Gemma Julia have been uploaded here.
Watch our conference Video!
On the day after the Livestock Futures Conference, several of the speakers and participants joined German and European shepherds at the national sheepdog competition that took place in Duisburg-Walsum. Despite language barriers they discovered many commonalities and exchnged experiences with respect to electronic sheep identification – an EU legal requirement that is causing quite a few hardships, as Hilary Liebeschuetz from the Shetland Islands described.
The group also discussed their concerns with Friedrich Ostendorff, member of the German parliament and deputy chair of the German Parliamentary Committee on Agriculture.
LPP and the LIFE Network will host a side-event entitled "Caravans of Biodiversity" that will highlight Indian pastoralists, their breeds and their role in producing nutritious and delicious food during the 11th Conference of the Parties (COP) to the United Nations Convention on Biological Diversity (CBD) in Hydrabad. It will take place on Friday, 12th October from 13.15 – 14.45 hrs. The programme will be posted here shortly.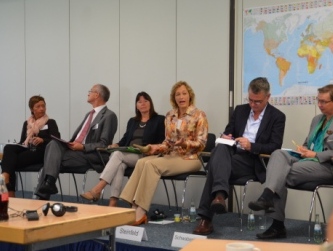 Some 80 experts from five continents and representing a wide variety of stakeholder groups including livestock keepers discussed in Bonn how to put livestock development on a sustainable path. The presentations and output will be uploaded on this website shortly. Press releases/summaries are available in English and German. Some of the salient moments of the wide-ranging discussions are captured  photographically here. An interview with Henning Steinfeld, chief livestock policy analyst at FAO, is available on line.