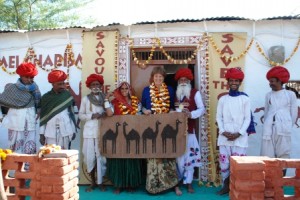 Camel Charisma is a social enterprise that supports the Raika and other camel breeders to develop and market products from their camels. On 1st February it opened a tiny retail outlet near Ranakpur in Rajasthan.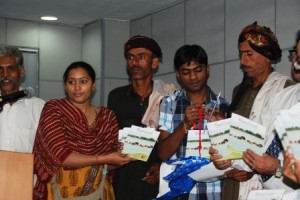 In a moving ceremony held at India's National Biodiversity Authority (NBA) in Chennai on 10th January, twenty livestock keepers received awards for their dedication to conserving indigenous breeds. In his speech, the secretary of the NBA, Mr. Reddy, emphasized the importance of Livestock Keepers' Rights and the need for every civilized country to implement this bundle of rights. More information about the award winners and the breeds that they steward is here.
On 22 nd February, the EU Commission, in collaboration with the African Union and the Center for Tropical Agriculture, organised an official briefing on African pastoralism. Lack of visibility of pastoralism and its role in food security was diagnosed as a major problem, but itwas extremely encouraging that the EU is giving the topic some attention.   More information here.
As local livestock breeds cannot compete in quantity with industrial livestock systems, it makes sense to focus on their unique qualitative aspects – as a means of conservation and source of livelihoods. LPP organised the first write-shop on this topic and the result was subsequently published by FAO in its Animal production and Health series. We also support our partner Lokhit Pashu-Palak Sansthan in efforts to diversify the product range of the dromedary camel in India.
Current project: "Ark project"
Publication
Adding value to livestock diversity. Marketing to promote local breeds and improve livelihoods. FAO Animal production and Health Paper 168. LPP, IUCN&FAO.
---
Some twenty livestock keepers will be honoured for stewarding the country's indigenous livestock breeds. They will receive a certificate and a cash award during a ceremony to be held at India' s National Biodiversity Authority in Chennai on 10th January. Prior to that, on 9th January, the LIFE Network India will hold a meeting to chart its future course of action. For more information, please contact Mr. Vivekanandan, SEVA, 45, T.P.M.Nagar, Virattipathu,Madurai – 625 010.Tamil Nadu, India. Phone: 0452 – 238 09 43 ; 238 00 82. E-mail vivekseva@gmail.com