LPP's Ilse Köhler-Rollefson participated in a high-level meeting held in Thailand from 1-4th December, 2011 that sought to formulate a Global Agenda of Action for a Sustainable Livestock Sector. Hosted by the FAO and the Thai government, some 45 participants agreed on focusing on three particular themes that exemplify some of the problems bogging down the sustainability of livestock production worldwide.

LPP project coordinator, Ilse Koehler-Rollefson, and director of LPP's Indian organization Lokhit Pashu-Palak Sansthan, Hanwant Singh Rathore, describe efforts to market products such as camel milk and paper made from camel dung.
View film on YouTube.

The eastern Indian state of Orissa has a wealth of local livestock breeds, LPP's Ilse Koehler-Rollefson has learned. She visited farmers who raise Ghunsur cattle and goats, a group of nomadic pig herders, and duck keepers near the coast.
She also took part in a "roadside university", or pathe pathshala, run by Balaram Sahu, a veterinarian from Orissa, to discuss livestock health and management with local people.
Ilse Koehler-Rollefson. 2011. Exploring Orissa's animal cultures with Dr. Balaram's pathe pathshala. League for Pastoral Peoples and Endogenous Livestock Development.
Balaram Sahu. 2011.
LPP moves with Pathe Paathshaalaa (PP) for scouting animal genetic resources and pastoral groups in Orissa, India.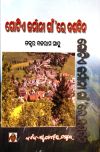 In May 2008, Indian veterinarian and LIFE member Dr Balaram Sahu spent 10 days in Germany on an LPP-sponsored exposure tour. He stayed in Wembach, a small village in the Odenwald in southwestern Germany, where LPP has its headquarters.
Now Dr Balaram has written a book about his experiences. Written in Oriya, the language of the eastern Indian state of Orissa, it is an ethnography from an Indian viewpoint. The book describes donkeys and horses, sheep salami, organic products, the mayor of Wembach, and other local people.

The book was launched during a field trip in rural Orissa to visit nomadic pig pastoralists. These pastoralists graze their animals on the stubble left after the rice harvest. A sustainable and eco-friendly way to raise livestock. A long way from Germany in terms of distance, maybe, but not so far in terms of a philosophy of life.