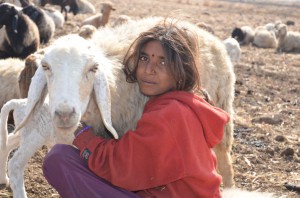 During the International Grasslands Conference held in Delhi from 20-24th November, LPP organised a special session on pastoralism in India, in collaboration with the Rainfed Livestock Network.
It included two keynote presentations by Ilse Köhler-Rollefson on Ecologically and Socially Sustainable Livestock Development in Marginal Areas  and by Saverio Krätli on Valuing Variability: New perspectives on climate resilient drylands development.
Other presentations covered the significance of sheep pastoralism in providing organic manure (Dr. Bala Athani), the role of goat, pig and buffalo pastoralism in Odisha in providing food security to the poor  (Dr. Balaram Sahu), on pastoralism in the Banni Grasslands of Kutch (Ramesh Bhatti) and the importance of the Amrit Kavad grazing reserves in Karnataka for livestock and biodiversity conservation (Gopikrishna).
The session inspired constructive discussion among the audience as it challenged the prevailing perception of pastoralism being a backward and of low output.
We hope to be able to upload all of the presentations shortly.