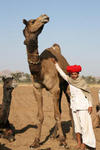 Conserving animal biodiversity and creating rural employment can go hand in hand – an Indian NGO is showing the way.
Camels are part of the past? Not according to Lokhit Pashu-Palak Sansthan, a Rajasthan-based NGO and LPP partner.
The Indian NGO is running a project to boost the value of camel products such as milk and ice cream. Camel milk, the "white gold of the desert", is highly nutritious and is used traditionally to treat tuberculosis and typhoid. According to scientists, it may also have a positive effect on patients with HIV/AIDS, cancer and Alzheimer's disease.
Further details 63 kb