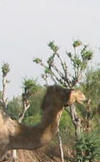 India marks its independence on 15 August – an ideal occasion to press for the rights of pastoralists to their traditional grazing rights in the country's forests.
A ban on traditional grazing in forests threatens the pastoralists' livelihoods. Many are forced to give up keeping animals, in turn threatening the survival of many unique livestock breeds.
India's forests must be conserved. But so too must the livelihoods and rights of the people who depend on them.
Please print out one of these letters, sign it, and mail or fax it to the addresses below.
Letter to be signed by pastoral communities or associations. 27 kb
Letter to be signed by non-pastoral communities, volunteers or NGOs in support of pastoralists. 28 kb
Addresses
Dr. Manmohan Singh, Prime Minister of India, New Delhi 110011. Fax 011 – 23019545, 23016857
Mr. Raja, Minister of Environmental and Forests, Paryavaran Bhawan, Lodhi Road, New Delhi 3 (Fax 011 – 24362222)3)
Dr. Abdul Kalam, President of India, Rashtrapathy Bhawan, New Delhi – 110 004 (Fax 011 – 23017290, 23017824)
If you live in India, the authorities in your State.